St. James Unleashed Dog Park Experience
Saint James is a beautiful place to live. A lot of the beauty is the spirit of community that lives here, that includes taking care of our community of dogs.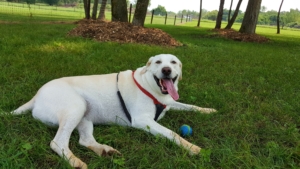 My dog, a yellow Lab, Lacie, is the biggest 85 lb lapdog I know and I just love her! She grew up on a farm and did not have a chance to get properly socialized with other dogs as there was no dog park close by. When we moved into St. James she would bark at them, while hiding behind me of course, and yelp like it was the end of her world if one got its nose close enough to touch her.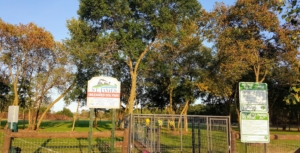 Then, she was introduced to the new St. James Unleashed Dog Park. This has become a favorite place for her, as I am sure to the plethora of the other dogs in St. James. When we hit the gravel road that rounds the corner to the park, she is head out the window and ears up waiting for the car to finally come to a halt so she can jump out with her ball in mouth waiting patiently at the gate until I open it and the games can begin.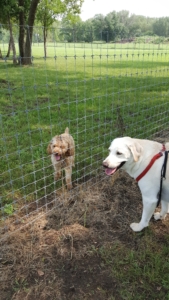 This dog park has been a great place for her to smell, and see other dogs. It is a beautiful site that even I enjoy with all the trees offering shade, well kept and mowed grass, doggy waste bags, and a picnic table for owners to sit and visit.
Having 2 fenced in places for big dogs and smaller ones is wonderful. She has been able to get used to having other dogs around.
In fact, while walking with her earlier this week, she greeted a Doberman without any hesitation or reservation. I was so surprised, happy and so grateful that there is a great dog park here in St. James where a dog who was once afraid of others could now have a safe place to meet dogs of all shapes and sizes just like the owners who bring them.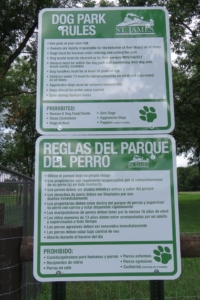 Lacie invites all of you to come out and play at the St. James Unleashed Dog Park. Even if you are new in town or just visiting, stop by and say, "Hi!". Hands (and paws) down, the best dog park around!
Thank you to all the sponsors and the members of our community that made this possible!!
https://discoverstjamesmn.com/wp-content/uploads/2018/09/Dog-Park.jpg
960
960
Sheenah Buck
https://discoverstjamesmn.com/wp-content/uploads/2022/10/Discover-St.-James-Concept-4.2-1-1-300x162-1.png
Sheenah Buck
2018-09-26 21:09:25
2018-09-26 21:16:55
St. James Unleashed Dog Park Experience